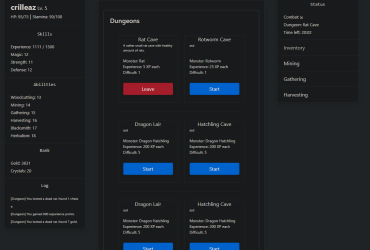 Omschrijving
Dit is een opensource project, de bedenker is er inmiddels mee gestopt maar staat open updates te ontvangen. De game is een engels talige game.
Functies
Login
Register
Chat
Combatlog
Dungeon system with 4 dungeons
Experience and level system
Inventory system
Monsters
Highscores
Loot system
Stamina system
Hitpoints system
Combat system
Item system
Ban system
GM system
Installatie
Upload de bestanden naar jou webserver.
Importeer de sql file in je database.
Pas de volgende bestanden aan: engine.php, register.php, chat.php, login.php, server.php en log.php.
Stel de cronjob in voor server.php en draai deze.
Registreer jou account.